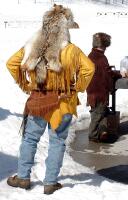 [Go to Gallery for more
images from the Apr 2002 shoot
]
This was the 3rd Black Powder Shoot, and there was a record 28 registered shooters. It was a beautiful sunny day, with the snow still frozen enough to walk on. Two relays made the shooting lanes a bit easier to manage. Targets were varied, from suckers at 20 feet to metal gongs at 70 yards. There was a swivel gong and paper buffalo bull's eye at 50 yards that showed a group 4 shots, a styrofoam cup of snow at 25 yards; and an X target which was used as a tiebreaker. The most challenging shot was at a 6 inch diameter gong at 40 yards, through 5 metal rings, from a crouched sitting position. 8 out of 28 shooters hit the gong, others hit the boards, the rings, and other connecting parts. The final shot was with a black powder pistol brought by Ed Benda, something new for most shooters.
Here are the top shooters for the OSC Black Powder Muzzleloading Program. (Ribbons were given to the top 6 shooters in each category.)
Men's Division

Jon Henkel
Red Maxwell
John Stenvig
Mike Mickus
Bob Keen
Lyle Hebert

Women's Division

Sandy Henkel
Mary Linden
Bonnie Phillips
Brenda Carlson

Junior Division

Seth Merrill
Robert Butcher
Keith Kraker
Josh Jaenig
Team Results
[out of 130 possible points]
Leo Hebert, Ishpeming; John Stenvig, Pelkie; Jon Henkel, Pelkie; Stathi Pappas, Hancock - (average score 92.25)
Mike Mickus, Hubbell; Joe Dyke, Nisula; Sandy Henkel, Pelkie; Lyle Hebert, Ishpeming - (average score 76.5)
Ed Benda, Crystal Falls; Red Maxwell, Beecher, WI; Marshall Kent, Gladstone; Billy Maxwell, Beecher, WI - (average score 67.5)
Bob Keen, Chassell; Ed Fugenschuh, Pelkie; Bonnie Phillips, Escanaba; Dave Jaenig, Hancock - (average score 57.75)
Phil Carlson, Ontonagon; Brenda Carlson, Ontonagon; John Linden, L'Anse - (average score 46.6)
Lyle Merrill, Quinnesec Falls, WI; Dave Paquette, Skanee; Tom Dyke, downstate, MI; Mary Linden, L'Anse - (average score 44.5)
There were 13 lucky shooters (names were drawn from a hat) that received prizes donated by shooters and people who supported the shoot.
A special thanks to Ray Phillips of Escanaba, longtime black powder shooter, who did the scoring for the day.
A delicious hearty lunch of soup, sandwiches and dessert was served to the hungry crowd by Sue Dyke from the Ottawa Sportsmen's Club. It was definitely appreciated. Thanks, Sue!
Sarah Stephens from Crystal Falls displayed pre-1840 period clothes which she had made. Look for all the new mountain men and women at our next shoot, it'll be a trip to the past! She'll also be at the next shoot with more hand-made items for people who are interested in a more 'authentic muzzleloader' look.
Next shoot is May 4 at 10:00 AM. All are welcome. New shooters are encouraged to try it. No charge. We will have fun! Call Jon Henkel (906)353-6511
jchenkel@up.net
.